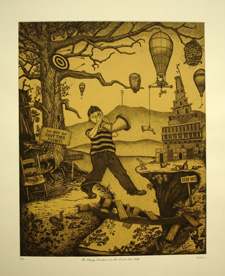 The Happy Wanderer on the Dead Tree Path

2011
Intaglio and chine colle 20" x 16"



New

The Nonsense Prints

, a suite of 8 intaglio images click here

In the light of God, human vision clears

-

James Phillips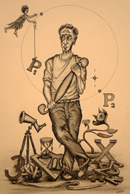 This is My World,

charcoal on paper, 17"x 11"
John D. Gall
Artist/Printmaker
A North Carolina artist working in various mediums
including printmaking, mixed media, and painting.




The North Carolina Museum of Art

is including 2 of my drawings in their
show entitled:

Line,Touch,Trace

.


The show will run from August 31, 2014 throuth March 8, 2015

An exhibition of my new paintings,

Strange Fiction

, will be featured at


Adam Cave Fine Art

in Raleigh, NC Sept 4-30.
There will be a preview party Sept 4th (6-8)
and a reception Sept 5th (6-9pm)

NEW PAINTINGS STATEMENT
Many years ago I began my art career as a painter and eventually studied at Guilford College. While at Guilford I was drawn to original printmaking (etching and relief methods) and actually have been making prints for over 20 years, doing very little painting at this time. In the early part of 2013 I felt drawn to return to painting and have done so with a new maturity and clarity that I know was not there originally. I Believe the years spent focusing on prints helped me develope a greater awareness of technique and subject matter. I'm sure I will continue to make prints but am enjoying the new freshness I feel for painting. It is amazing how an artist's "signature" will fellow from one medium to another when at peace with his art. I am honored and pleased to make these paintings available to view at this time.

207 6th Street, Winston-Salen, NC 27101

115 1/2 East Hargett Street 2nd Floor, Raleigh, NC 27601

200 N. Davie Street, Greensboro, NC 27401